On this first-ever episode of Automation & Authorship, we had guest author
Kayla MacNeille
on to discuss
#PitMad
(a quarterly pitching event on Twitter put on by
@PitchWars
) and the general writing community on Twitter.
Here are a few show notes:
Kayla has been a writer for over a decade.

She recently finished her first serious book and now she's entering the querying world.
Quarterly querying event on Twitter

Writers have 280 characters to pitch their unpublished works (3 tweets max)

Other writers retweet pitches they like

Agents like tweets they find interesting

Writers with agent likes query those agents who will often request first 10 pages, first chapter, etc
Kayla's experience with #PitMad
She recommends not promising to blindly retweet pitches, but rather promise to check them out and retweet IF you like them

Kayla got a couple likes early on from random profiles

At 8:30am, she got a like from an agent, which drove the mood for the rest of the day

She started filling out the form but waited a bit to hit send, because it was harder than she thought it'd be

She sent it later that night, followed by the first 10 pages of her manuscript as requested by the agent

Two weeks later, she received a rejection letter

No regrets, the agent like gave such a boost of energy and motivation that didn't die just from getting the rejection

Getting to the step of querying is a big milestone in itself and rejection letters are milestones too

A rejection just means your work doesn't match the very particular criteria the agent has, not that your work isn't good

#PitMad gave Kayla a deadline to stop her from forever nitpicking her work. It was an exercise in committing to her work.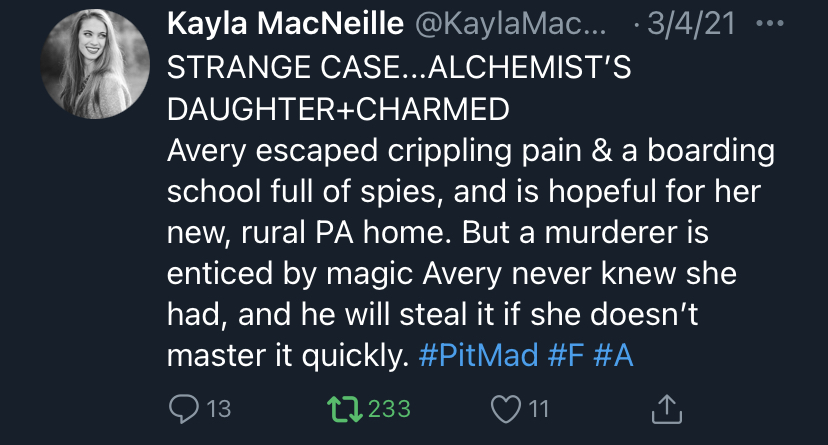 A fantasy book about five girls that are entering a stage of life that they are told is very complicated and hard (medical school). Then they find out they have magical powers. As the main character is going through what she thinks is a normal hard life, she realized there's actually magic and that'll give her something to focus on.

Her #PitMad pitch: STRANGE CASE…ALCHEMIST'S DAUGHTER+CHARMED. Avery escaped crippling pain & a boarding school full of spies, and is hopeful for her new, rural PA home. But a murderer is enticed by magic Avery never knew she had, and he will steal it if she doesn't master it quickly. #PitMad #F #A

Pitching is incredibly difficult and takes time to craft, just like the work itself
Kayla's experience with the writing community
Ready to share ideas and build you up

Swapped synopses with other writers

Still have a few people she talks to that are excited about each other's careers

Find where you fit and where your people are